When it comes to making big purchases, at some point in the process we've all had that thought, "Where can I go for some unbiased advice."
As an Account Executive at Protexure Insurance Agency, it is my job to help attorneys find an insurance carrier and policy that fits their needs. While of course I believe that the Protexure Lawyers program is a great choice for solo attorneys and small law firms, I also recognize that we might not always be the perfect fit for everyone.
And furthermore, as a consumer myself, I know how frustrating it can be to feel like the account executive, sales associate, etc., is just trying to push the sale rather than listening to my needs and helping me find the best solution.
Sometimes, we just want a third party source to help us evaluate our options, right?
I am frequently asked for a reputable source for attorneys to evaluate insurance carriers and know who is best.
Unfortunately there is no clear cut answer for who is the best. Like with most things, it comes down to personal preference and opinion.
But, when it comes to evaluating insurance carriers, attorneys don't need to rely on the potentially biased opinion of other attorneys, agents, or even insurance carriers themselves. There is an unbiased source for evaluating insurance carriers called AM Best rating.
Unless you are in the insurance industry or have spent a significant time researching insurance carriers, you may be wondering, "What is the AM Best rating?" And furthermore, "Why should this rating be a contributor to my decision on which carrier I'll choose?"
Throughout this article, I will be exploring why the AM Best rating is important to consider when choosing a legal malpractice insurance carrier. I'll break down each rating and what they represent, while also making a recommendation on which rating fits your firm the best.
What Does AM Best Company Do?
AM Best Company reports on the financial strength and operating performance of over 16,000 insurance carries. These ratings are available to help consumers understand the stability and history of carriers.
The AM Best rating evaluates the financial strength of insurance carriers on a scale of D to A++, with D being the lowest rating and A++ being the highest, most financially sound carriers.
Similar to the Better Business Bureau, AM Best is a company that provides insurance companies with credit ratings based on their ability to pay claims, debts and other financial obligations. Along with the rating, AM Best provides commentary, research and analysis to provide more insight.
AM Best provides their insurance carrier ratings free of charge in an effort to support customers, insurance carriers and the insurance as a whole.
Over the years AM Best rating has evolved into one of the most trusted sources for insurance carrier information. Lawyers, and all insurance consumers alike, utilize the AM Best rating to make unbiased decisions on which insurance provider to partner with.
How Are AM Best Ratings Determined?
Through a rigorous process, each insurance company is researched by AM Best's advisory board and is assigned a rating in four different categories:
Best's Financial Strength Rating (FSR)
Best's Issuer Credit Rating (ICR)
Best's Issue Rating (IR)
Best's National Scale Rating (NSR)
For the purposes of this article, we are going to focus on the Best's Financial Strength Rating (FSR). While the other ratings are worth mentioning, they do not have a significant impact on consumers.
Throughout the insurance industry you will see insurance carriers taute their AM Best rating. When a rating is listed on the insurance company's website or promotional materials, they are referring to their Best's Financial Strength Rating.
Below is a breakdown of AM Best's Financial Strength Rating (FSR). The ratings/grades here are determined based on the insurer's ability to meet ongoing obligations and financial strength. According to AM Best's website, the ratings are as followed: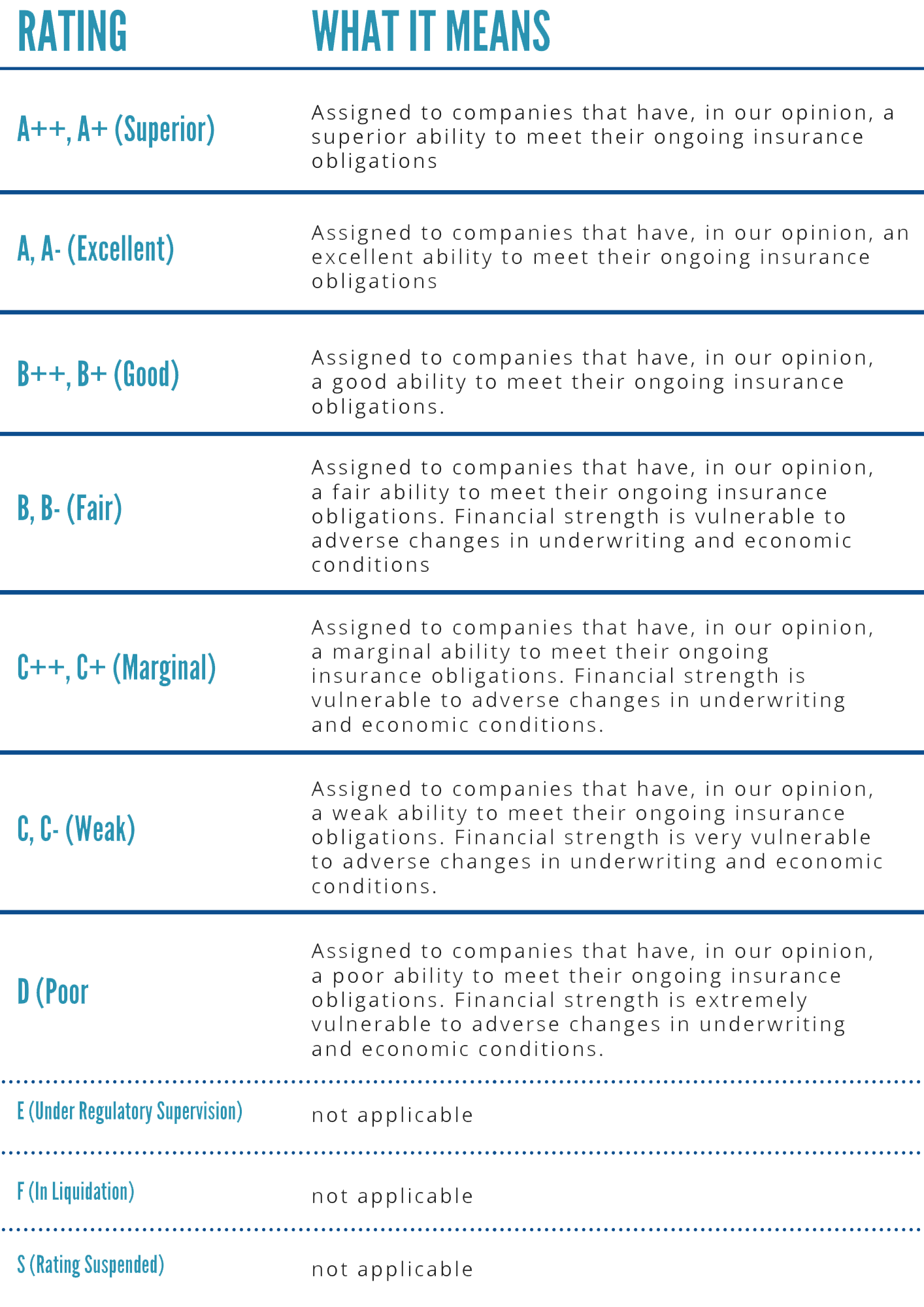 AM Best Company. (2020). AM Best's Consumer Insurance Information Center.
Retrieved May 26, 2020, from http://consumers.ambest.com/content.aspx?rec=261606
How to Use AM Best Rating when Choosing an Insurance Carrier
In the insurance industry, the AM Best rating is taken very seriously. Many insurance consumers take the AM Best rating into consideration when deciding on an insurance carrier for their legal malpractice insurance policy.
The AM Best rating depicts the stability of the carrier, financial strength, and an ongoing ability to meet coverage obligations to their clients.
As a consumer, many of us do our own research to determine what to purchase. Insurance is just like any other purchase, while there are many factors to consider, third-party ratings are worth evaluating.
For example, if you were looking to buy a car, you would most likely give some consideration to the make, model, color and other enhancements. But, ultimately, we want to know, will this car get me from point A to point B safely? If you are going to make a significant investment in a car, you want to make sure you and your loved ones are protected. To determine this, you might check out the IIH Safety Rating.
The AM Best Rating works the same way. This rating provides you, the consumer, with a trustworthy, third-party rating of how your law firm will be protected by your insurance carrier.
Much like other rating services, AM Best has made it as easy as possible for you to evaluate insurance carriers. Simply visit the AM Best website, type in the insurance carrier you're interested in reviewing and AM Best will generate a rating based on the table shared above.
How AM Best Rating Impacts Your Law Firm
The AM Best rating can have a large impact on your law practice. Whether that impact is positive or negative is up to you.
Choosing an insurance carrier with a good AM Best rating (A or above) will ensure that any potential claims you may come across will be handled by a financially healthy and stable insurance provider.
If a claim were to arise, an insurance provider with a good AM Best Rating can be counted on to follow through with coverage and financial obligations within their policy.
On the flip side, if a law firm were to select a malpractice insurance carrier with a less than stellar AM Best rating, handling claims may prove to be a difficult process. In the table above, the lower ratings (B++ and below) are more vulnerable and less financially stable.
Insurance is intended to be a financial safety net protecting you from the unknown. As a lawyer, you spend years paying into an insurance program for financial security should the worst-case scenario occur. But, if you're with a low-rated insurance carrier who can't afford to pay for their insured's claims, then you will be on the hook for covering the costs of a claim.
Furthermore, insurance carriers with low ratings are at a higher risk of shutting their doors. If this occurs, what happens to your policy? While there are safety nets in place for this exact scenario, there is a risk that despite the money you invested, your coverage could be limited.
Insurance is an investment worth researching before committing to a carrier. It's essential that the insurance company you're pursuing can be trusted with handling your business and upholding their end of the deal.
Which AM Best Rating Is Best For Your Law Firm?
When it comes to evaluating carriers based on their AM Best rating, AM Best Company does not provide any guidelines for which ratings are adequate or the best. In order to remain unbiased and neutral, they simply give the ratings, and it's up to us to interpret them.
From our experience, we recommend choosing an insurance carrier with at least an A rating or above. Insurance carriers rated above an A, especially for an extended period of time, will provide their clients with great service, dependable coverage and prompt claims handling all at a fair price.
Whether or not you feel comfortable choosing a carrier below an A rating will depend on your tolerance for risk. But, the good news is, highly rated insurance carriers are not hard to come by, There are many legal malpractice carriers to choose from with an A rating and above.

When choosing a legal malpractice carrier, reviewing AM Best ratings is a great first step. Once you have compiled a list of carriers that meet the rating criteria you desire, it's time to move onto reviewing the other factors that make a great insurance carrier.